Birdtex Bird Netting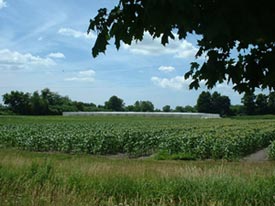 Birdtex is a bird netting made from high-density polyethylene monofilament yarns that are knitted into an open mesh fabric. This produces a lightweight, run resistant durable fabric that resists rips tears and abrasions. It is available in white or black. Birdtex is U.V. stabilized and chemical resistant.
Birdtex protects crops from bird damage. It reduces evaporation, wind rub and damage to new growth. Stress on the crops is lowered making them healthier and show higher yields. Birdtex is specifically designed with optimum hole size, small enough to keep out small birds, but large enough to allow movement of bees. It's 5/8″ holes keeps shade to a minimum. Birdtex is a stretch mesh, so the net can be stretched to a greater width or length than that shown in the specifications, allowing for a custom fit.
Correct design and installation of Birdtex is essential to its effectiveness and durability and comes with a 10 year pro rated warranty against product failure due to UV degradation to HDPE monofilament yarn. Canopy bird structures are custom designed to meet specific needs using quality parts that ensure a stable, reliable structure that will last for many years.